Body of Evidence: The Casement Project at Kilkenny Arts Festival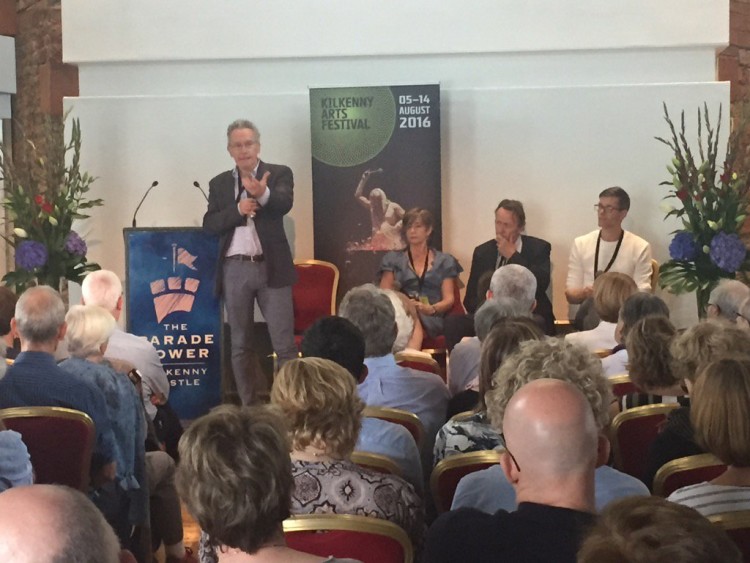 In the second of The Casement Project's appearances at Kilkenny Arts Festival, I shared a platform with journalist, Fintan O'Toole (who has written extensively about Casement), Dr. Barbara Dawson (Director of The Hugh Lane where two Casement exhibitions are running) and Prof. Roy Foster (historian and friend of The Casement Project). We were invited to have a public discussion about Casement and his legacy under the title of Body of Evidence.   It was good to be able to talk about the history as inspiration, but also to recognise what is distinctive about an artist's response to inspiration, and in particular my focus on the body – in its joy and pain – as a way of drawing contemporary resonance from Casement's life and afterlife.
While the panel took Casement's homosexuality as a fact, when Fintan, as chair, opened the discussion to the audience for questions, the first intervention was from a man who, seizing the microphone and making his way to the front of the room, clearly disagreed that Casement was gay and that the 'Black' diaries are authentic. He took exception to my description of the post-mortem examination of Casement that describes the dilation of his anus, pointing out that all our orifices would be dilated after a hanging. I don't disagree with him, and wasn't offering the post-mortem as proof of 'the practices to which it was alleged the prisoner in question had been addicted'. Instead, I was interested in the invasive treatment of Casement's body and in the subsequent discussion of that physical probing at the highest levels of British government.
Having Roy Foster next to me to deal with the majority forensic, historical conclusion that the diaries are genuine made me relaxed about the attack that this gentleman offered. I felt this man's objections were particularly aimed at me, whom he addressed as Mr O'Connor, or, more particularly, aimed at my focus on the physical and sexual in Casement. Fintan O'Toole was a fierce defender and chair and refused to have the Q&A derailed. The audience was not sympathetic to the interruption either, especially when Roy Foster made clear the majority historical opinion. However that majority opinion is not total and it remains fascinating to me that Casement can provoke controversy and strong emotion one hundred years after his death.
In the company I was privileged to share at Kilkenny Arts Festival, both at The Wake for Roger Casement and at The Body of Evidence talk, I felt the kind of solidarity that makes it possible to brave the work that remains to be done around the body in Ireland.